What do Rottweilers usually die from? Latest Guide in 2023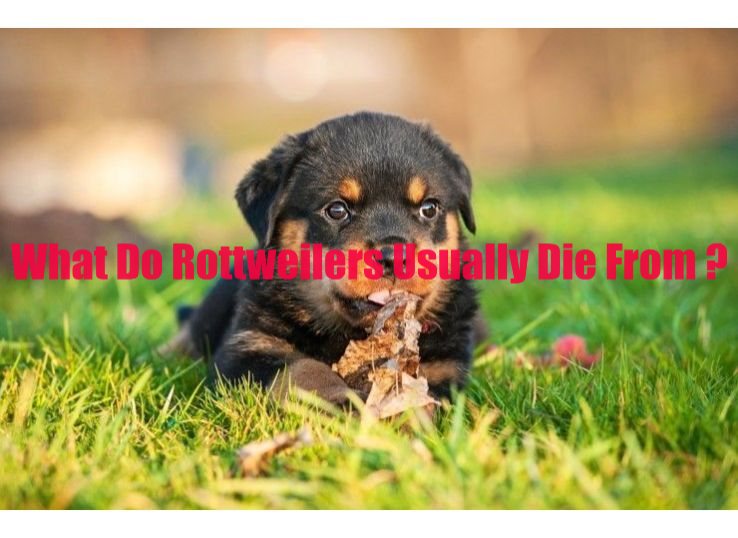 Rottweilers differ from many other dogs in many aspects. They have genetic differences and hence have special health care needs. The usual life expectancy of dogs is 13 to 15 years. But, for Rottweilers, it is 8 to 10 years. If you want to know, what do Rottweilers usually die from? The answer to this question gives us a long list of diseases.
The answer is that genetics predispose the Rottweilers to many diseases, and males are more predisposed than females are. Neoplasia is a common cause of death in females. The most common disorders were hip dysplasia, aggression, overweight or obesity, otitis externa, and degenerative joint disease.
Susceptibility to disease
The Rottweilers have a genetic predisposition for many diseases of nervous, musculoskeletal, and metabolic origin. According to the data of the Vet compass program 2013, many ailments are common among Rottweilers. In this program, the scientists collected data to identify the prevalence of different diseases in the Rottweilers.
The scientist collected data from 5321 dogs, and there is a long list of disorders. The most common health problems include overweight/obesity (7.06%), ear infection (6.14%), and arthritis (4.69%). However, these conditions are not very deadly.
Males were more likely than females to have aggression or mood problems (9.36% versus 5.47%) and acute skin infection (4.05% versus 1.76%). The most common disorder groups that can cause death in Rottweilers were cancer (33%), joint problems (16.01% of dogs), Hip and elbow dysplasia (10.96%), gastrointestinal disorders (8.87%) and aortic stenosis with variable incidence.
What do Rottweilers usually die from?: Common causes of death in Rottweilers
Many illnesses and health concerns depend on genetics. There is widespread agreement among canine genetic experts and veterinary practitioners that the disorders stated below have a high occurrence and effect in the Rottweiler breed.
We'll go over the most prevalent Rottweiler problems to give you an idea of what she could face in the future. This guide covers general health information that applies to the Rottweilers.
Cancer:
One of the most common health problems in a Rottweiler is cancer. Cancer is the uncontrolled production and replication of the cells. This uncontrolled replication produces a mass of cells called lymphomas.
The lymphomas usually occur in the organs having rapid cell division like the liver, spleen, and bone marrow. The incidence of cancer cases in Rottweilers is 33%. The dogs have variable symptoms of cancer.
There are many treatments like chemotherapy and radiotherapy, also available for pets. However, an early diagnosis is possible with a routine check, and it can help in the condition's treatment.
Osteochondritis:
A dog owner can know this disease by the name of 'inability to stand". It usually occurs at the young age of around 5-6 months and resembles much to rickets. At this stage, the cartilages are converting into bones, and many problems can occur at this time. The incidence of this condition is 16% in the list of, what do Rottweilers usually die from?
This condition develops if the bone grows too fast, dislodging the joint or the bone attaches with no proper alignment. The symptoms are like hip or elbow dysplasia. The Rottweilers face this condition because of their heavyweight, even at a young age.
Hip and elbow dysplasia:
It is a common health problem in heavier breeds. Hip dysplasia occurs when the displacement is between the hip joint and thigh bone. The animal shows pain during walking, fragility, and changed gait.
Similarly, elbow dysplasia is the dislocation of the elbow joint. The symptoms are also like hip dysplasia, leading to difficulty walking and bearing weight. The range of recovery depends on the severity of the condition and dislocation.
Treating a severe dislocation requires open surgery of the joint. In most cases, the death occurs because of a secondary bacterial infection after the surgery. However, with proper care and treatment, the animal can live a long and healthy life.
Gastrointestinal disorders:
Dogs have a high susceptibility to gastrointestinal infections. They are prone to many bacterial and viral diseases of the gastrointestinal tract. The common infections include parvovirus, salmonellosis, colitis, gastritis, and cancer of the digestive tract.
In most of these conditions, the animal experiences symptoms like diarrhea, dehydration, lethargy, and abdominal cramp. Death, in most cases, occurs because of dehydration by excessive loss of water.
Replenishment of fluids in such cases and extensive treatment with antibiotics can save the life of the animal. However, in young puppies, these problems add to the list of "What do Rottweilers usually die from?"
Aortic stenosis:
This condition shows the restriction of the flow of blood to the heart. Because of low blood flow, the heart stops pumping and leads to the sudden death of the animal.
Aortic stenosis occurs because of blockages or narrowing of the aorta of the heart. This obstruction is because of the accumulation of cholesterol. Obesity is the common cause of this problem in the Rottweilers.
Feeding a high cholesterol diet can lead to cardiac myopathies in the Rottweilers. There are not very well-developed surgical treatments available for this condition. However, extensive use of drugs helps in recovery.
What age do most Rottweiler dogs die?
The lifespan of Rottweiler dogs, as stated by the American Kennel Club, is around 8-10 years.
But numerous Rottweiler dogs live longer than that. Numerous sources state that the average life expectancy for a Rottweiler dog is around 6-9 years; however, this range is low once associated with numerous additional sources.
One research from the University of Georgia stated that the average age at death for these dogs was 9.4 years. Besides, 78 percent of canines in the study survived beyond their 8th birthday. One more study from Finland described that a dog's median life expectancy is 11 years and that as several as 81 percent of Rotties live past eight years old
Frequently asked questions:
Are Rottweilers susceptible to too many life-threatening diseases?
Rottweilers are sensitive and are lovely dogs. They need care and proper nutritional balance to prevent many health problems. Before you keep a Rottweiler puppy, understand the nutritional and physical demands of your dog. In this way, you will take good care of these fur babies.
How can I improve the life quality of my Rottweiler?
There are many ways to improve the quality of life in Rottweilers. Take your dog out for a walk or socialize with them more often. Give them an easily digestible and balanced diet. Provide toys and games to prevent unwanted behaviors in them. Train them well and give mineral and vitamin supplements to prevent diseases. Make sure you vaccinate and deworm your pet regularly.
Can I prevent cancer in my Rottweiler?
Cancer is not a contagious disease. You cannot prevent it in the way you can protect them from viral and bacterial infections. The occurrence of cancer depends on the genetics and life history of the pet. Look at the pedigree of your dog to know if there is any family history of cancer in them.
Conclusion: What do Rottweilers usually die from?
What do Rottweilers usually die from? Is a question with a long list of answers. If you are a Rottweiler parent, keep extra good care of their health. They are relatively sensitive than the other dog breeds.
Their heavy stature makes them prone to many bone deformities and obesity. However, most of these diseases are easily preventable with the diet management of your pet. So make sure you care for them responsibly and lovingly.
I am a veterinarian by profession and love to write about animals. You can find the most credible information here. In addition to that, I am a traveler and movie lover. You can contact me for any kind of information about animals.